If you wish to successfully sell off your musical instruments and get an appropriate amount of money for them, then keep reading, and we will guide you on the best way to sell them and how to do them.
We understand that finding the right market to sell specific instruments can be problematic, mainly if you are aiming to get a reasonable rate. This causes a lot of distress to many people and takes up much of their time in choosing where to sell and how much to sell. It is no different when it comes to musical instruments and equipment.
The good news is there is a way to get rid of your musical instruments and equipment that will give you decent value for them. Musical instruments and equipment usually maintain their worth well, and there are always purchasers, thousands of them, looking for second-hand musical instruments and equipment regularly on various websites such as eBay, Craigslist, and even pawn shops.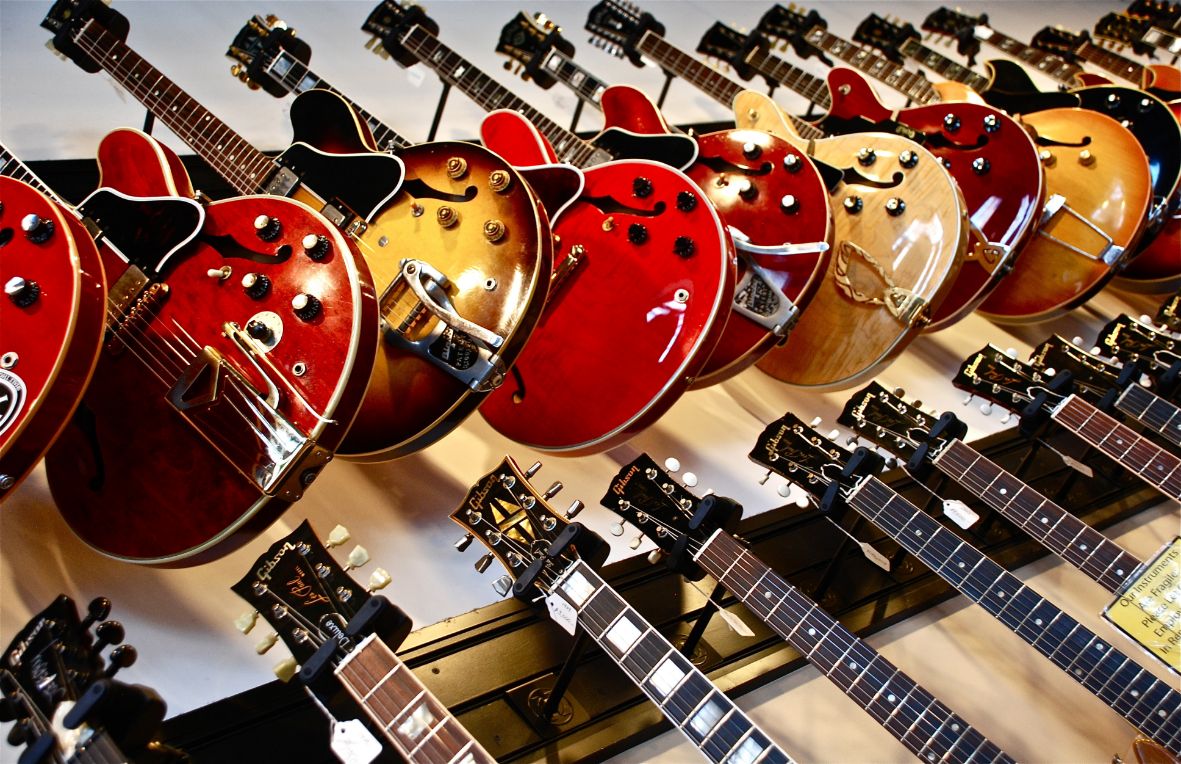 The sale of musical instruments and equipment can be both gratifying and profitable, but attention must be paid to ensure they are sold correctly. So, whether you are searching to offload those instruments and equipment you no longer use or are a professional seeking to sell them as a business, it is essential to take the proper steps.
Stick to us; by the end of the article, you'll have a good idea of how to offload those instruments most efficiently. Let's get started.
First, let's discuss the top 5 places where you can sell your musical instruments quickly.
Craigslist:
Craigslist is an excellent platform for both buying and selling used gear. One of the main benefits is that you don't have to pay any fees when you sell something. That means whatever money you make from your sale is all yours to keep, even if someone offers you a bit less than your original listing price.
No need to worry about the hassle of shipping out your equipment; all you have to do is arrange a convenient meeting spot with the buyer! It will take a little of your time and effort. Otherwise, when selling gear online, you'd have to buy packaging materials, package it properly, and then makes time to visit the post office. Plus, you'd have to accurately price the shipping fee in your listing.
Selling on Craigslist is a great way to get the most out of your gear. However, it can be a challenging ride. You may experience some time-wasters and lowballers who are looking to get a deal. But don't let them get you down – you can get your stuff sold!
Reverb:
If you want to sell your musical instruments or equipment on a new platform, check out Reverb. It is an online auction site that focuses on musical instruments and equipment. It's effortless to use and navigate, and the best part is that the seller fees are minimal. Reverb charges the seller 5% on every item they sell.
Reverb updated its selling fee from 3.5% to 5% in August 2020. There are still no listing fees, and the maximum cost you can be charged by Reverb is $400 (ex., If you sell a $15,000 item). Reverb still has the lowest sales fees of any other marketplace of its kind for music gear of any type.
Pawnshops:
When you're looking to sell musical instruments, you'll find that pawn shops are a great place to do it. Working with a pawnbroker is a great way to get immediate cash when needed. Many pawn shops have people working there that would be considered experts in determining the value of a musical instrument. Before you visit the pawn shop, it would benefit you to look at some of the authentic stores near you and plan your visit accordingly.
When you enter the pawn shop, look around. Check all the instruments; you should find out what came with the instrument when it was new. Does it include the original packaging, as well as other accessories? These may be small and irrelevant things for some, but including all necessary items can boost the value.
Then, ensure that the musical instrument you're selling is clean and presentable. Clean it thoroughly before taking it to your local pawn shop. Dirty items will not show well and will affect the price you are offered, and the pawnbroker is factoring in the cost of cleaning up an item before they sell it. Selling instruments to your pawnbroker is more accessible than selling them online. When you sell to a pawn shop, you're dealing with professional brokers who know precisely what you are selling.
A pawn shop is perfect for selling or getting a loan on musical instruments. Look no further than your local pawn shop if you want to sell a musical instrument. The most common instruments pawned include guitars, drums, violins, and more.
You can find a pawn shop at your local community college or university. The people there will be able to point you in the right direction. You first want to check out the reputation of the pawn shop you're considering working with.
Look at how long it has been in business and how many customers they have had over the years. These two things will give you an idea of how trustworthy they are and how much success they've had with customers who have come through their doors looking for help selling their instruments or borrowing money against them. If you like what you see, head over there and ask about buying used guitars or other instruments for cash!
Facebook Marketplace:
Facebook Marketplace is an excellent spot to offload your pre-owned musical instruments in the vicinity. Making a listing on Facebook is like making a regular post. However, you are sharing it on Facebook Marketplace instead of your profile. The best part is that no expenses are involved, and you can ask for payment in any way you wish. When buying things locally, numerous people prefer to complete the transaction directly. This permit both vendors and customers to economize on delivery. Furthermore, it allows you to acquire your payment in cash.
eBay:
There is no need for an extensive explanation about eBay, the web-based marketplace. It is a popular site for those looking to acquire pre-owned musical instruments at a lower cost. Enlisting an article on eBay is free; however, a 3% fee is incurred when the item is sold. The seller is responsible for the shipment of the product, and they may either add the delivery cost as part of the item's price or charge the buyer an additional fee. Once the object is sold, payment is processed via PayPal.
Now let's move forward, and let us give you a couple of quick tips to keep in mind when selling off your musical instruments.
8 QUICK TIPS FOR SELL YOUR GEAR FAST
If you're hoping to get a reasonable amount of money for your musical instruments, it's essential to take the time to properly list them for sale. Don't just post blurry pictures online and make a few general comments about the item. Preparing the item for sale can help you get a few more hundred dollars for the gear without too much extra effort.
Here's what you should do:
1.      Capture Good Photos:
You don't need an expensive DSLR camera to capture great photos. If you have a smartphone, that's all you need. You also don't need a fancy setup or expensive lighting. With a smartphone and some basic knowledge of photography, you can take a bunch of photos and choose the best ones for your item. The key here is to ensure that nothing in your background is distracting from what's in front of it, like furniture or other items. It's also essential to use good lighting so that your subject stands out from its surroundings. And lastly, it's essential not to forget about angles—you should try taking photos from different angles so that people can see the condition or wear of the item without having to go up close.
2.      Provide an Accurate Description:
Always provide a complete and proper description of your instruments. You may include details like the model, year, any scratches or scats, what's the reason for selling. Complete information always intrigues the buyer, and it will help them make their buying decision easier. This way, your inbox will be protected from unnecessary messages, so just do your part, make it clear as crystal, and let the buyer decide for themselves.
3.      Make a Descriptive Video:
If you have a video of the item you are selling, please include it in your description. This will allow the buyer to see what the item looks like, hear how it sounds, and confirm that it is working correctly.
4.      Negotiate Your Price:
If you need help selling, try reducing the price gradually until the items sell. This is especially helpful on online platforms, as the listing will shop when the price has been reduced, and it may even show in the price Drop category. If you just need to bring in some extra cash, have a family emergency, or any other situation where you don't need to make money right away, consider lowering your price by $10-$15 at a time and then increasing it again after a day or two.
5.      Always Do Your Research:
If you've got the receipt filed away, that's perfect; if not, do some Internet searches to determine the price of the item when you bought it or how much similar items would cost. Once you've located your purchase price, divide by 12. This will give you an estimate of what a month's rental would cost. You can then multiply this number by 3 to get a monthly total.
6.      Check Out The Latest Rates:
Now that you've taken the time to assess the condition of your equipment, it's time to find out what it's worth. The first step is to check out what people are asking for and receiving for your equipment on online platforms. Keep in mind your equipment's condition, and ensure you're looking at the going prices for items in similar condition. This step will help you understand a ballpark estimate of what the equipment is worth in its current state — and it'll tell you what you stand to earn if you improve the item's condition. You may find out that $20 in repairs can fetch you a selling price higher by $200. Or, you may decide it's not worth selling your equipment, and you'll save a lot of time and effort.
7.      Make sure you clean and mend it:
It's wise to clean up your instrument! Before you take any photos or write up a listing, it's time to give your guitar a new set of strings, polish off the dust, and clean the fretboard. A minimal time and monetary investment can bring the item back to a like-new condition or at least get some appealing photos. You could give your guitar a new set of strings in half an hour, polish off the dust, and clean the fretboard. The instrument will shine in photographs instead of looking old and dirty.
Weigh your decisions in terms of the best investment of your time, energy, and money. The easiest heuristic for measuring assets in your equipment is to ballpark estimate how much additional cash you can earn by improving. By cleaning a stain on your guitar, you might stand to make another $50. But you might also spend four hours trying to grease your tuners only to find it makes no difference. You are the best judge of effort in these cases.
8.      Always list your instruments:
Before you list your equipment, make notes covering what you want to say about the piece and what sites require you to mention in your listing. Most relevant listings will include price, contact information, equipment condition, and a link to the manufacturer's site so buyers can learn more about the equipment.
When creating your listing, here are a couple more things to remember:
Understand that most musical instruments have consistent features within each type – however, there will also be unique and personal elements about each piece. There's no point in dwelling too much on the basics that your instrument shares with all others. Talk a little bit about its features and condition, then describe what's really interesting and personal about it: Is it the uniquely beautiful finish or wood designs? Is it the warm, fuzzy analog sound? Is it the expensive locking tuners you wouldn't find on a basic instrument? Describing what sets an instrument apart is one of the keys to success in the quest to sell music equipment.
Musical instruments can be deeply personal to the owner. If you felt connected with a piece and have any unique or special stories to share about the instrument, why not include them in the description? Tell stories about this instrument, something like when I was a kid, I had a dream. I wanted to be a famous musician, and I knew that the only way I'd be able to do it was if people heard me play my guitar.
I practiced daily: hours upon hours of scales and chord progressions and more hours just sitting in front of my guitar, strumming and singing until my fingers bled. It was a long road, but eventually, all those hours paid off—I played for 400 people at an impromptu performance at a wedding two hundred miles from home. It was amazing! When I got home, though, I discovered other things that mattered to me as much as performing: making friends, going on adventures with my family, helping people in need… But these things were just as important as playing music—and they made life worth living.
Final Words:
To sum up, we highly recommend that you sell your equipment at a pawnshop because it is much more hassle-free than selling it in other stores or online. Dealing with some stuff in person is much more compelling, so pawnshops are the best fit for you. Google pawnshops near me, check their reviews and pay a visit to them. There is no harm in doing that, but If you prefer to sell it online, we suggest you look at Craigslist and Reverb.
We hope this post benefited you and gave you some new insight.